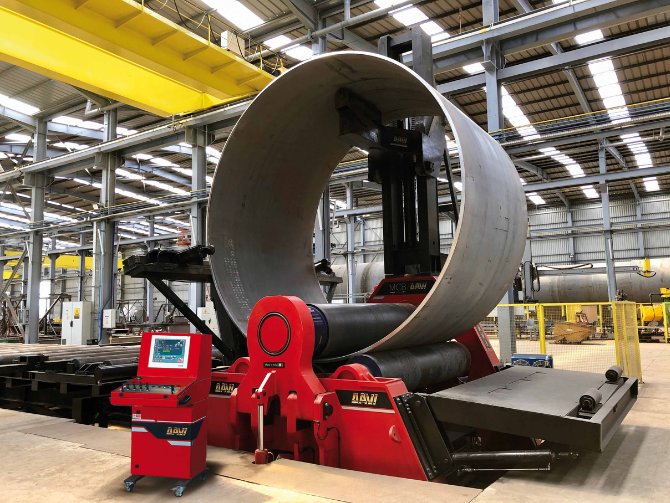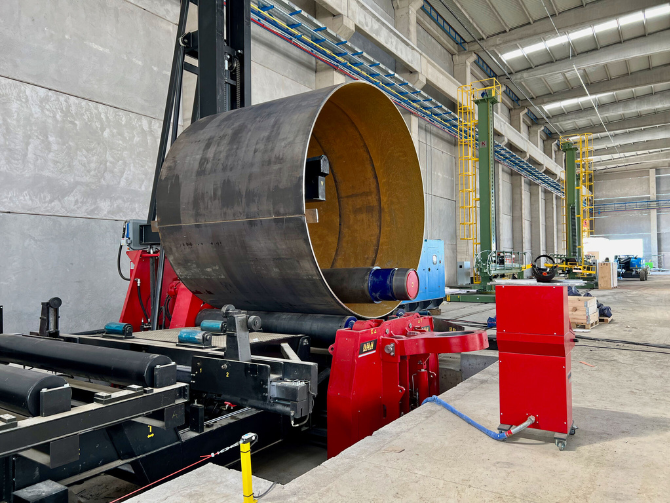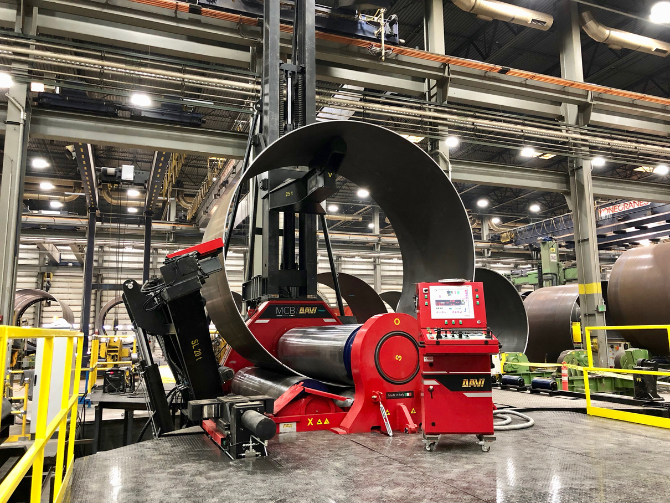 Onshore Towers Features
Height: Standing at heights of 80 to 100 meters (262' to 328'), onshore wind turbine towers are strategically positioned to harness the wind resources available on land.
Structure: They are typically constructed as single-section towers, simplifying their assembly on solid ground.
Diameter: Onshore towers have diameters ranging from 5 to 7 meters (16' to 23'), providing ample support for the turbines placed atop them.
Thickness: The steel used for onshore towers can reach thicknesses of up to 80-100 millimeters (3"3/16 to 4"), ensuring the towers' durability in various environmental conditions.
Width: These towers typically have a width of 3 meters (10'), designed to maintain stability while minimizing the footprint on the land.
}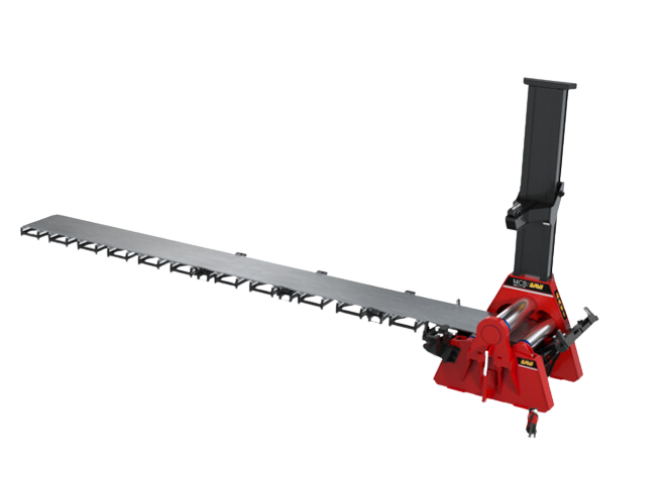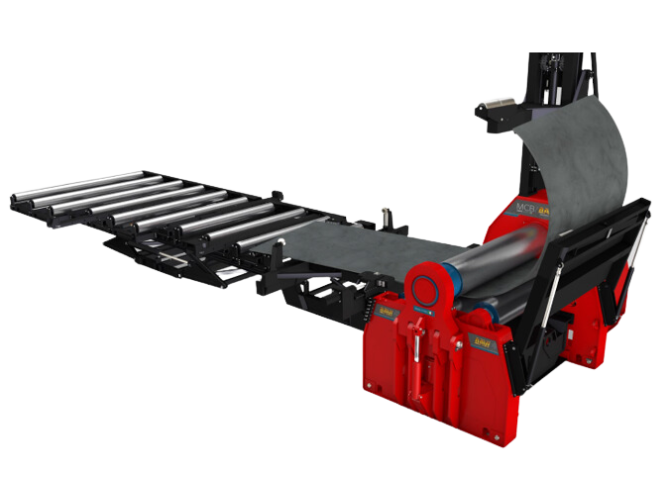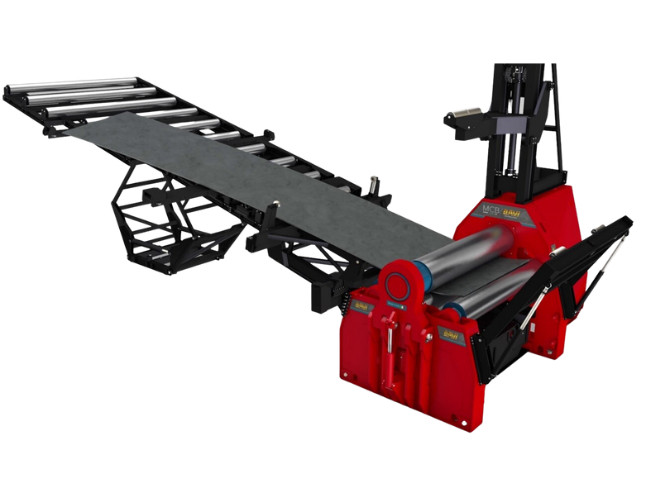 DAVI SOLUTIONS FOR OFFSHORE AND ONSHORE WIND TOWERS
1. Wind Energy Line: Our Wind Energy Line is a comprehensive solution that combines advanced machinery with essential accessories and a feeding system. This system streamlines the tower manufacturing process, making it more efficient and precise. Davi empowers manufacturers to produce towers with accuracy and reliability, meeting the rigorous standards of the industry.
2. High Productivity Line: Davi's High Productivity Line takes tower manufacturing to the next level. This solution includes a lifting feeding system (for a safe, fast and accurate pre-bending) and incorporates intermittent plate repositioning to form the necessary cone shapes. This innovative approach significantly enhances productivity while maintaining the highest quality standards. It is ideal for meeting the demands of high-volume tower production, ensuring efficiency without compromising on precision.
3. Smart Line: Davi's Smart Line represents the pinnacle of wind tower manufacturing technology. This solution offers continuous plate feeding, enabling the seamless formation of cones. The benefits are manifold, including faster production rates, enhanced product quality, a safer operational environment, and simplified machinery operation. The Smart Line is engineered to optimize the entire manufacturing process, from start to finish.
}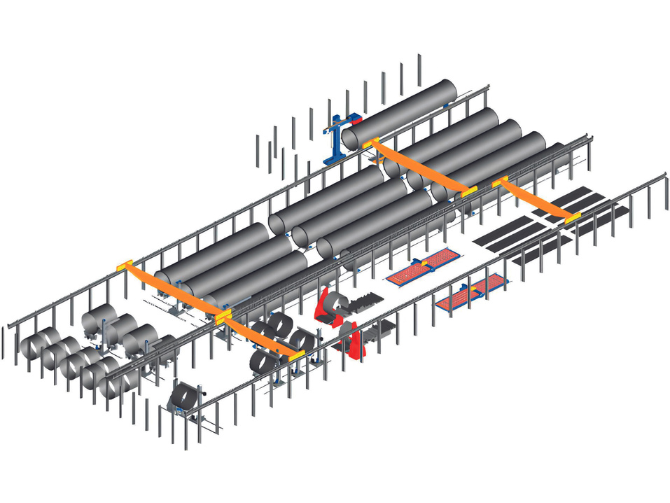 Tower Sample Factory
Plate cutting
Plate rolling
Longseam welding
Flange fitting and welding
Double can assembly and welding
Section assembly and welding
Quality control and internal fittings
Blasting
Painting
}
iRoll EXTREME + iCONE SOFTWARE + LASER MEASURING SYSTEM
iRoll eXtreme is the most advanced control system in the industry: an ergonomic console with a high-resolution touchscreen and a live 3D interface. It's as easy to use as a smartphone for creating programs, thanks in part to the exclusive AI.
iCone software is an exclusive software designed by Davi that allows you to manage the position of pushers and hydro-guides as the sheet is positioned and moves during processing.
Laser measuring system: Maximum measurement accuracy.
Ability to track and record forming tolerances. Full automation thanks to seamless integration with iRoll eXtreme software.
Safer operation (operators are always kept away from trapped parts).
Real ability to operate the machine with just one operator.