Davi Service & After Sales Division is a globally managed function committed to providing a wide range of solutions to enhance the productivity, cost-effectiveness and efficiency of our customers' equipment.
Some of the activities, related to parts and logistics, which involve the movement and coordination of resources, are managed centrally, to ensure a direct connection with Quality and R&D Departments. This suggests that any improvements or adjustments can be directly influenced by quality standards and ongoing research efforts.
However, the aim of the whole Service and After Sales process is being as close as possible to the customer. We guarantee this service through our Dedicated Help Desk (to provide assistance and address customer inquiries or issues) and our team of 50+ Field Service Engineers (Davi trained professionals who provide on-site services, such as repairs, maintenance, and technical support) available worldwide.
In the effort of continuously improving our customer experience, the performance of the mentioned functions and services is measured and controlled using specific KPIs such as Response Time, Time to Repair, etc.
Lastly, having warehouses and partners located worldwide assures that spare parts are delivered to replace faulty components efficiently and in a timely manner, ensuring minimal downtime.
What are we able to provide to our customers?

> State of the Art machine installation, start up and commissioning to assure the optimal initial machine operation
> Fast and effective response thanks to our team of dedicated technicians in our Help Desk support
> Quick dispatch of parts thanks to our large stock of parts
> Quick dispatch of a technician thanks to our team of field service engineers dedicated to Service (no sharing with Production!)
> Full range of Service to maintain your machine at the best working condition and reduce downtime
• Assessment visit and Planned Preventative Maintenance
• Effective Telephone Support 24 Hours a Day
• Remote assistance and remote machine connections
• Training to machine operators and site maintenance team
• Machine overhaul and upgrade
• Suggestion of spares package to be stocked to reduce risk of downtime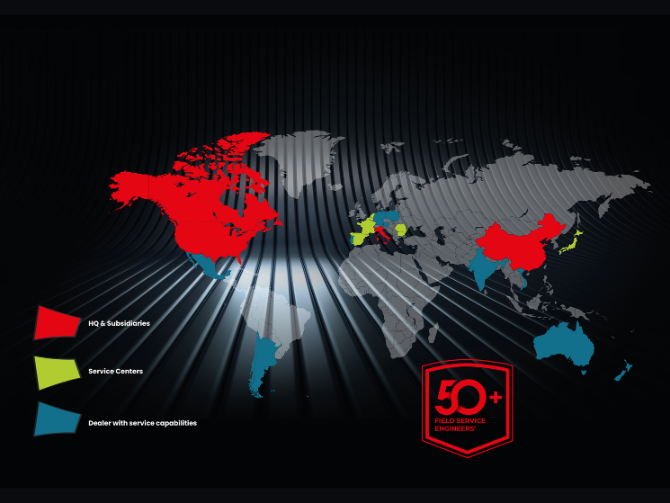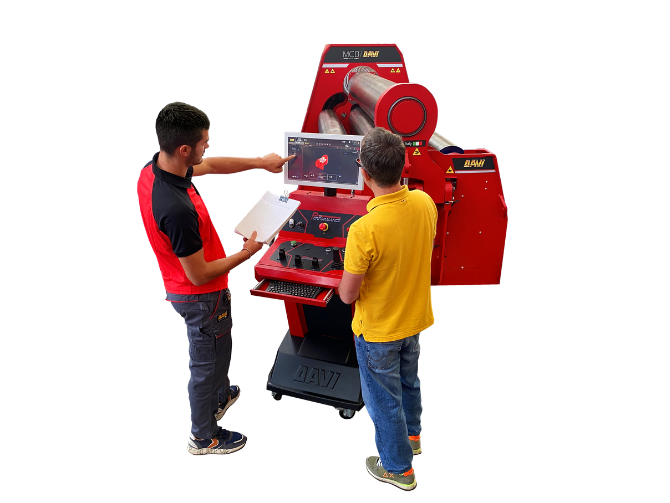 Davi Service & After Sales (SAS) Division is committed to providing a wide range of solutions to enhance the productivity, cost-effectiveness, and efficiency of your equipment. To begin with, Davi can offer a diverse selection of accessories designed to facilitate handling and increase safety:
Overhead supports that cater to various diameters and capacities.
Standard or double articulated lateral supports.
Feeding systems for seamless operations.
Interpolation systems for multi-radius applications.
Interchangeable top rolls for small diameter applications or with different crowning.
Dedicated sets of tooling tailored to your needs.
Outfeed conveyors for efficient material handling.
Squaring devices for precise alignment.
Ejectors for streamlined material removal.
Light curtains and/or safety cages for enhanced safety.
Automatic loading robotic lines for optimized processes.
Bar code readers for seamless integration.
Customized solutions to meet specific production requirements and more.
Selected accessories can also be retrofitted on machines from other leading brands, not just Davi. By upgrading to CNC controls, you can significantly reduce setup time for operators while increasing productivity and repeatability. Upgrading CNC controls also safeguards against software obsolescence. To evaluate machine capacity and expedite the quality control process, we provide Performance Tests and DG Gauges that are available for all machines. Regarding spare parts, Davi has created 2-year and 5-year recommended spare parts kits, specifically tailored for each machine and intended to be stored in your warehouse. Where needed, we can provide specific, customized training sessions conducted by our dedicated engineers who can visit your plant and train your operators on the use of Davi machines. Moreover, we offer a complete revamping service to restore your machine to a brand-new condition. Finally, we offer a Preventive Maintenance Program (PMP) designed to provide the highest level of support for Davi machines already in operation. Our goal is to work together with you to ensure optimal performance and longevity of your equipment.
Comprehensive Preventive Maintenance Program
Onboarding and Support
Receive our wearable Smart Glasses along with clear instructions for usage. Your technician can wear these glasses and connect with the Davi Help Desk. Our experienced experts will provide real-time guidance to swiftly resolve any issues.
Proactive Maintenance
Throughout the entire contract duration, we provide you with a Spare Parts Maintenance Kit containing all the necessary components for machine maintenance. This kit includes spare parts for routine scheduled maintenance, with a detailed list shared after a Diagnostic Visit.
Benefit from:
A Comprehensive Maintenance Kit
Preventative Maintenance Services
On-Site Coaching
Continuous Training, Support, and Troubleshooting
Responsive Support Available 24hours a day, Every Day of the Week
We're here to assist you round the clock, seven days a week, with:
A Dedicated Telephone Line
Specialized Technical Support
Phone Troubleshooting Management
Guaranteed On-Site Availability
Emergency On-Site Visits
Swift Spare Parts Availability
Warranty Extension service to prolong your machine's warranty beyond the standard terms